≡ License
Datazenit License
Datazenit is a commercial software, and you need to purchase a license to use it for an extended period of time. When running Datazenit for the first time you will be prompted to create an admin account and to provide a license key. If you want to try out Datazenit, leave the license key empty and a free trial period will be started. Trial period lasts for two weeks and after that you will need to provide a license.
License Types
Datazenit offers two perpetual licenses – personal and commercial. Both license types offer full functionality of Datazenit and are valid for unlimited period of time. For the first year, customers are eligible for free upgrades of Datazenit.
Personal license can be used by a single user for any type of work, but this license can't be purchased by a company.
Commercial license can be purchased by a company and used for any type of work. Each commercial license has a specific amount of maximum end-users that can use Datazenit. Commercial license users can either use separate Datazenit instances locally or use a single hosted Datazenit instance. For example, if you have purchased a license for 10 users, Datazenit can be installed on 10 devices or deployed on a single server and used by 10 users.
Free Trial
If you want to try out Datazenit, a free trial is available. Trial period lasts for 2 weeks and has no limits in functionality. During the trial you can add up to 10 users in a single Datazenit instance. To start a free trial download Datazenit from our store and leave license key empty when asked. You will be notified when the trial period has ended.
Purchase License
Datazenit licenses can be purchased in Datazenit Store. Pricing information for all packages is available in the Pricing page. Choose appropriate license and click on the PayPal button to proceed with the payment. If you want a custom license or a special offer, please get in touch with us.
Payment Options
Payments are processed by PayPal, but you don't need a PayPal account in order to submit a payment. PayPal allows guest checkouts, just click on "Pay with my credit or debit card" instead of logging in with PayPal.
Activate License
After you have successfully purchased a license, you will get a license key. License key can be found in Products view by clicking "View license" next to download buttons or in a list of purchase history. Use it to activate Datazenit during the first-run setup or by going to License view in User settings (User menu -> License).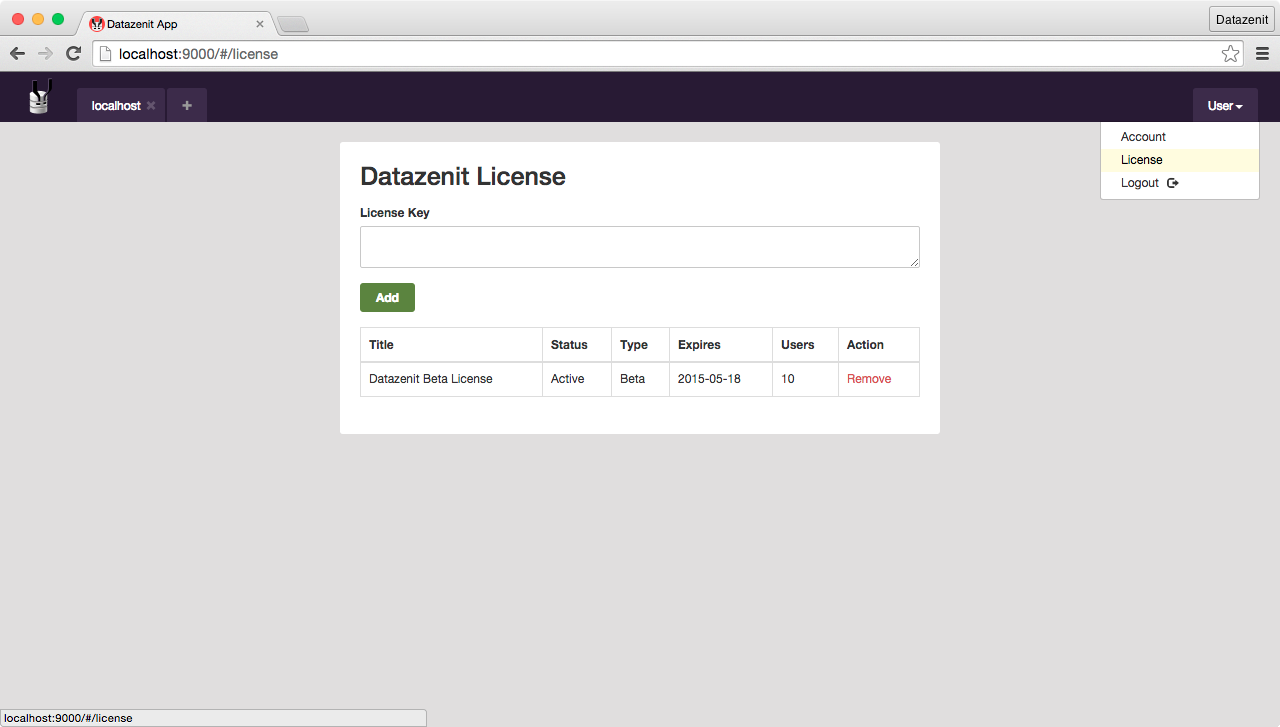 Next: How to update Datazenit